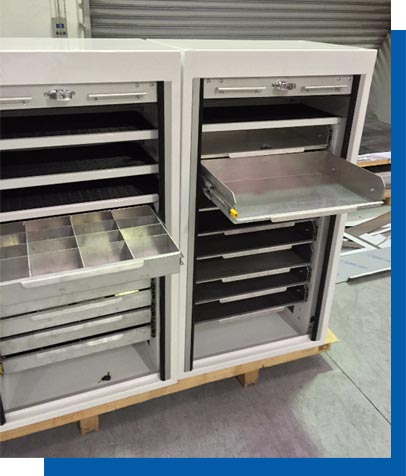 SAS Metal Solutions is a design and manufacturing business with vast expertise in the Sheet Metal Industry.  With a passion for quality design and functionality, we are here to 'bend and flex' with our customers in order to meet their requirements.
SAS also provides a limited bespoke design service allowing it to also take on specialised, one-off higher margin projects such as customised vehicle utility canopies, architecturally designed letterboxes and BBQ surrounds, caravan and trailer accessories, firepits or any steel based structure.
The SAS team offers an honest service with genuine lead times and prices. No matter what your requirements, large runs, small runs, simple jobs or complex jobs, the SAS team are here to help. We offer a full fabrication service – design, laser cutting, press brake folding, MIG and TIG welding, finishing, assembly, drilling, rolling and tapping, you name it we can do it!
Like our name suggests, we are solutions focused and will work alongside your business to ensure products are manufactured to the highest quality, functionality and at the right price. We are committed to providing a level of service others cannot with regular communication high on our priority list.
We would love to talk to you about how SAS Metal Solutions can assist with your manufacturing and design requirements – contact us today for a chat or a tour of our facilities.